Don't Just Be a Value Investor!
Monday, Jul 02, 2018
Yes, it's us – Quantum Mutual Fund – a fund house that follows value investing like a sacred religion. We don't want you to be just Value Investors. We want you to also be Regular Investor.

While value investing has to do with a fund and its stock selection process, regular investing is actually to do with your investment process. You can be a regular investor by opting for an SIP – Systematic Investment Plan.

The whole world is talking about these three words. Investment pundits swear by its miracles. And we can't stop ourselves from encouraging you to start as many SIPs as you can. That is because most of us have financial goals to achieve. We want to get there and make our dreams into realities. SIP is a facility that suits everyone.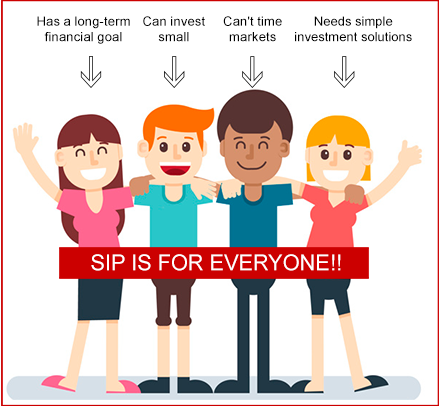 The best thing about SIP in our view is that it's automated. You only have to Authorise your AMC once and they can directly transfer the amount you have specified from your bank account into your selected fund. This rules out the trouble of investing every time your SIP is scheduled.

Therefore, we'd say if you can't ignore market volatility then make the most of it. Let your investments appreciate when markets are high and buy more units when markets fall. Invest in an equity fund of your choice via SIP. At Quantum, we offer three equity oriented funds - Quantum Long Term Equity Value Fund, Quantum Equity Fund of Funds & Quantum Tax Saving Fund. You can also consider an SIP in these funds.

Benefits of SIP in –
Quantum Long Term Equity Value Fund – A diversified equity fund that follows value style of investing is meant for your long term financial goals.

Quantum Equity Fund of Funds – If you have assuming 20% of your equity exposure in QLTEVF, then 80% could be in QEFOF. With Fund Manager diligently choosing funds that offer diversified equity funds of other mutual funds s

Quantum Tax Saving Fund – An Equity Linked Savings Scheme that has a dual benefit of tax saving and helps building wealth. Start small and get maximum tax benefit at the end of the financial year.

Wealth creation is easy today. Therefore become the regular investor we want you to be by making most of the time in your hand. Everyone can seek to benefit from the stock market (both ups and downs!!) through mutual funds and their SIPs.

---
Product Labeling
Name of the Scheme
This product is suitable for investors who are seeking*
Riskometer
Quantum Long Term Equity Value Fund

(An Open Ended Equity Scheme following a Value Investment Strategy)
• Long term capital appreciation

• Invests primarily in equity and equity related securities of companies in S&P BSE 200 index


Investors understand that their principal will be at Moderately High Risk
Quantum Equity Fund of Funds

(An Open Ended Fund of Funds scheme Investing in Open Ended Diversified Equity Schemes of Mutual Funds)
• Long term capital appreciation

• Investments in portfolio of open-ended diversified equity schemes of mutual funds registered with SEBI whose underlying investments are in equity and equity related securities of diversified companies

Quantum Tax Saving Fund

(An Open Ended Equity Linked Saving Scheme with a Statutory Lock in of 3 years and Tax Benefit)
• Long term capital appreciation

• Invests primarily in equity and equity related securities of companies in S&P BSE 200 index and to save tax u/s 80 C of the Income Tax Act. Investments in this product are subject to lock in period of 3 years.

* Investors should consult their financial advisers if in doubt about whether the product is suitable for them.

---
Disclaimer, Statutory Details & Risk Factors:
The views expressed here in this article are for general information and reading purpose only and do not constitute any guidelines and recommendations on any course of action to be followed by the reader. Quantum AMC / Quantum Mutual Fund is not guaranteeing / offering / communicating any indicative yield on investments made in the scheme(s). The views are not meant to serve as a professional guide / investment advice / intended to be an offer or solicitation for the purchase or sale of any financial product or instrument or mutual fund units for the reader. The article has been prepared on the basis of publicly available information, internally developed data and other sources believed to be reliable. Whilst no action has been solicited based upon the information provided herein, due care has been taken to ensure that the facts are accurate and views given are fair and reasonable as on date. Readers of this article should rely on information/data arising out of their own investigations and advised to seek independent professional advice and arrive at an informed decision before making any investments.
Mutual fund investments are subject to market risks read all scheme related documents carefully.
Please visit – www.QuantumMF.com to read scheme specific risk factors. Investors in the Scheme(s) are not being offered a guaranteed or assured rate of return and there can be no assurance that the schemes objective will be achieved and the NAV of the scheme(s) may go up and down depending upon the factors and forces affecting securities market. Investment in mutual fund units involves investment risk such as trading volumes, settlement risk, liquidity risk, default risk including possible loss of capital. Past performance of the sponsor / AMC / Mutual Fund does not indicate the future performance of the Scheme(s). Statutory Details: Quantum Mutual Fund (the Fund) has been constituted as a Trust under the Indian Trusts Act, 1882. Sponsor: Quantum Advisors Private Limited. (liability of Sponsor limited to Rs. 1,00,000/-) Trustee: Quantum Trustee Company Private Limited. Investment Manager: Quantum Asset Management Company Private Limited. The Sponsor, Trustee and Investment Manager are incorporated under the Companies Act, 1956.