April 7, 2017
Quantum Equity Team
In the month of March 2017, S&P BSE Sensex gained 3.19% on total return basis. It has appreciated 11.5% in the first 3 months of 2017. Mid cap and small cap indices continue to fare better than Sensex. S&P BSE Midcap rose 4.31% for the month whereas S&P BSE Smallcap index gained 5.45%.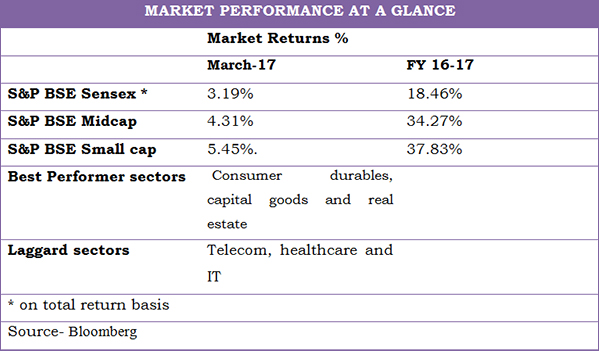 For one year period ending 31st March, Midcap and Smallcap indices had stellar returns of 34.27% and 37.83% respectively. This compares to 18.46% gain of Sensex for the same period. Consumer durables, capital goods and real estate were among the sectors that performed best for March. Telecom, healthcare and IT were laggard sectors.
FIIs invested USD 5.14 billion in Indian stocks in March, buoyed by recent state election results. In the first three months of 2017, FIIs have invested USD 6.7 billion. Domestic institutions (DIIs) were net sellers during the month, pulling out USD 653 million. The Indian Rupee appreciated during the month by 2.76% against the US dollar.
On the global front, economic growth remains anemic in the developed world with the exception of US. Eurozone and Japan have injected massive liquidity in the economy in hope of growth. That, however, continues to remain elusive. There are elections scheduled in France in the coming months, adverse results could lead to possibility of France exiting Eurozone. This could be destabilizing for Eurozone on the back of UK's decision to leave last year.
Trump's proposal to make changes to US healthcare reforms passed during his predecessor tenure was another important event for the month. His own party didn't support the move and its rejection was a big setback for the US President. This puts a question mark to his many future plans such as big infrastructure investments and tax reforms. US currency weakened in the aftermath. A big global commodity rally riding on US infra spend could also end unfavourably.
US interest rates may go up further in future as the economy has achieved low unemployment and is operating close to optimal output. This may hurt equities prices in emerging markets including India (at least in the short run).
On domestic front, four GST bills were passed by Parliament. This clears the path for GST to be implemented from 1st July 2017. On the political front, the past month was good for BJP led NDA. A clear win in the decisive UP state is being seen as support for policies of the Government and give them headway for the next Lok Sabha elections. India's macroeconomic situation remains quite stable with inflation, oil prices and external trade deficit under control. Lack of pick up in corporate investments remains one missing factor to drive GDP growth of the country.
There was a lot of activity in the corporate sector in March.. Automobile firms were restricted to sell non emission compliant vehicles from 1st April. This came after a Supreme Court judgment which forced many two wheeler and commercial vehicle players to offer massive discount in the last two days of March. There were also rumors of further consolidation in the Indian banking sector, after SBI merged with its 5 associates.
Fund Outlook:

We remain optimistic about Indian equities in the long run. India is unlikely to be impacted economically much from the unfavourable situation in other parts of the globe. In fact, it has been a beneficiary of fall in commodity and energy prices. India is a bright spot in world equities, given high GDP growth which can continue. Demonetization so far didn't have a big impact on the listed companies, though it needs to be watched in the coming months. India is also relatively less impacted from global protectionist measures as consumption is 65% of GDP. We are less reliant on exports for economic growth. Investors can add to their position in equity to benefit from higher corporate earning growth expected. Valuation of equities also appears to be fair, not excessive, at the moment.
Data Source: Bloomberg
---
Disclaimer, Statutory Details & Risk Factors:
The views expressed here in this article are for general information and reading purpose only and do not constitute any guidelines and recommendations on any course of action to be followed by the reader. The views are not meant to serve as a professional guide / investment advice / intended to be an offer or solicitation for the purchase or sale of any financial product or instrument or mutual fund units for the reader. The article has been prepared on the basis of publicly available information, internally developed data and other sources believed to be reliable. Whilst no action has been solicited based upon the information provided herein, due care has been taken to ensure that the facts are accurate and views given are fair and reasonable as on date. Readers of this article should rely on information/data arising out of their own investigations and advised to seek independent professional advice and arrive at an informed decision before making any investments.
Mutual fund investments are subject to market risks read all scheme related documents carefully.
Please visit – www.QuantumMF.com to read scheme specific risk factors. Investors in the Scheme(s) are not being offered a guaranteed or assured rate of return and there can be no assurance that the schemes objective will be achieved and the NAV of the scheme(s) may go up and down depending upon the factors and forces affecting securities market. Investment in mutual fund units involves investment risk such as trading volumes, settlement risk, liquidity risk, default risk including possible loss of capital. Past performance of the sponsor / AMC / Mutual Fund does not indicate the future performance of the Scheme(s). Statutory Details: Quantum Mutual Fund (the Fund) has been constituted as a Trust under the Indian Trusts Act, 1882. Sponsor: Quantum Advisors Private Limited. (liability of Sponsor limited to Rs. 1,00,000/-) Trustee: Quantum Trustee Company Private Limited. Investment Manager: Quantum Asset Management Company Private Limited. The Sponsor, Trustee and Investment Manager are incorporated under the Companies Act, 1956.